Product Description:
The eq5120tyh road surface microwave maintenance vehicle is based on the trial production of the sample vehicle, fully absorbs the opinions and suggestions of experts, scholars and road maintenance workers in the industry, and presents the regeneration, energy saving, low-carbon, low-carbon and high-speed development of road maintenance through multi-disciplinary comprehensive improvement work such as optimization of mechanical design, hydraulic design, automatic control design and microwave field layout design Environmentally friendly and practical products. The vehicle is mainly a special equipment designed to repair asphalt pavement pits and grooves quickly and environmentally friendly. It can heat its own asphalt mixture or recycled materials excavated on the pavement to 130-180 ℃ in only ten minutes to meet the needs of pavement pit and groove repair. At the same time, it improves the working environment of pavement repair, and has the characteristics of quickness, environmental protection, safety, flexibility and mobility.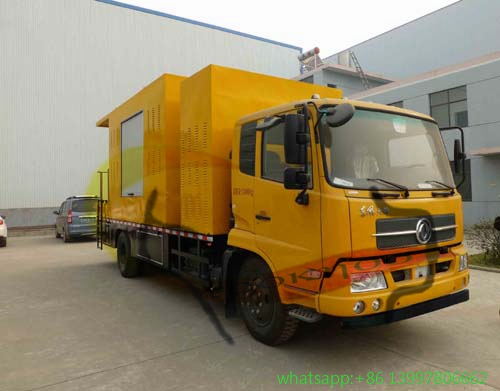 Function introduction:
1. The rapid repair of damaged pavement is realized by microwave rapid heating of asphalt mixture.
2. Rapid heating of various asphalt mixture materials can reach any temperature required by construction (130-180 ℃);
3. The asphalt mixture with any rapid ratio or the recycled mixture excavated from the damaged pavement can be recycled. The pavement with a thickness of 50mm can be repaired for 7 ㎡ at a time. Through the function of thermal insulation and material storage, 7 ㎡ large and small pits can be heated and repaired at a time;
4. It can walk quickly, and the maximum moving speed of the vehicle is 95km / h;
5. It can realize waste recycling;
6. Equipped with diesel generator set, free field operation can be realized.
Eq5120tyht asphalt road microwave maintenance vehicle
Model Eq5120tyht asphalt road microwave maintenance vehicle
Overall dimension (mm) eight thousand nine hundred and seventy × two thousand three hundred and seventy × three thousand and seven hundred
Wheelbase (mm) five thousand
Total mass (kg) twelve thousand four hundred and ninety
Curb weight (kg) twelve thousand two hundred and ninety-five
Engine model
EQH160-40
EQH180-40
Displacement / power
4752/118
4752/132
Chassis Model DFL1120B18