EQ5252JBTCement Mixer Truck
  1. Cement mixer is constituted of type II chassis, drive train, hydraulic system, rack, agitator tank, input and output device, water supplying system, control system, ladder, etc. The front end of agitator tank is fixed in the foreground of rack and connected with the reduction gears, and the rear end through raceway is propped up by two tugs which are installed in the backstage of rack. The agitator tank remains running to ensure concrete are not solidified during the transportation period. After finished delivering, often use water to flush the inside of agitator tank to prevent hardened cement paste from occupying space and make the volume of the mixing drum is less and less.
  2. Employ dedicated turnover welding equipment, which will makes vehicle with light dead weight, in addition , guarantee it's anti-torque, seismic resistance, anti- jolt, etc. capability, meet the demand of different pavement bearing.
  3. Agitating vane apply Europe most advanced technological design, fulfill three dimensional mixing, makes materials mixing more uniform, not easy to get centrifugal and lower residual quantity of materials. Deepen and broaden down spouting, there will no overflow during discharge process .and the discharge speed is fast.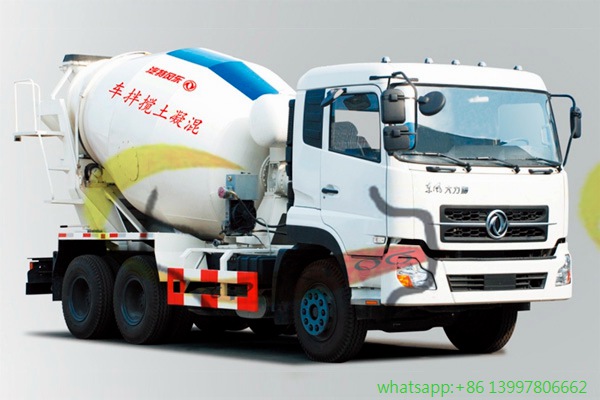 EQ5252JBTCement Mixer Truck

Vehicle Model

EQ5252GJBT Cement Mixer

Overall Dimensions(mm)

8800,9740,9990*2500*3990

Mixing Volume(L)

5000

Wheelbase(mm)

3650+1350,3800+1350,4000+1350

Gross Weight(kg)

25000

Rated Loaded Weight(kg)

10755,10690

Curb Weight(kg)

14115

Engine Model

EQR375-33

Displacement/Power(ml/kw)

11120/275

Displacement standar

Euro 3

Oil Consumption(L/100km)

24.2

Maximum speed (km/h)

75

Cab Type

Flat head and single row with a sleeper can be flipped

Audio Configuration

Mp4

Heating and Cooling System

Air Conditioning, warm air

Cold Boot Temperature Range

General condition:-10to55℃;special circumstances:-40to55

Transmission Gear

Shanxi Fast eight and nine Gear transmission

Oil tank capacity

Completed steel 350L

Tire Size

11.00-20, 11.00R20, 12.00-20, 12.00R20

Chassis Model

DFL5251GJBA1
EQ5254GJBT型混凝土搅拌运输车

车 型

EQ5254GJBT型混凝土搅拌运输车

外型尺寸(mm)

9750,9750,10000

×2500×

3990

搅拌容积

5立方米

轴距(mm)

3900+1300,3900+1350,4150+1350

总质量(kg)

24900

额定载质量(kg)

10705

整备质量(kg)

14000

发动机型号

YC6A240-33,C230 33,YC6A240-31,ISDe230 30,

排量/功率

7255/177,8300/170,7255/177,6700/169,

底盘型号

DFD3254GJ

批次

217
东风牌EQ5252GJBT1型

车 型

EQ5252GJBT1型

外型尺寸(mm)

9000,9450,9750

×2500×

3990

搅拌容积

5立方米

轴距(mm)

3650+1350,3800+1350,4000+1350,3800+1450

总质量(kg)

25000

额定载质量(kg)

10870,10805

整备质量(kg)

14000

发动机型号

dCi350-40,dCi385-40,ISLe340 40,ISLe375 40,

排量/功率

11120/257,11120/283,8900/250,8900/276,

底盘型号

DFL5251GJBA4

批次

239
东风

EQ5252GJBT型混凝土搅拌运输车

车 型

EQ5252GJBT型混凝土搅拌运输车

外型尺寸(mm)

8800,9740,9990

×2500×

3990

搅拌容积

5立方米

轴距(mm)

3650+1350,3800+1350,4000+1350,3800+1450

总质量(kg)

25000

额定载质量(kg)

10755,10690

整备质量(kg)

14115

发动机型号
dCi340-30,dCi375-30,dCi375-31,ISLe340 30,ISLe375 30,L340 30,L375 30,
YC6M340-33,YC6M375-33,EQR340-33,EQR375-33,
排量/功率
11120/250,11120/276,11120/276,8900/250,8900/275,8900/250,8900/276,
9839/250,9839/276,11120/250,11120/275,
底盘型号

DFL5251GJBA1

批次

239